June 29-September 23, 2021
This exhibition will be the first major survey of the art of Shigeko Kubota (1937 - 2015) in Japan nearly in three decades. Born in Niigata and educated in Tokyo, Kubota moved to New York in 1964 to join the Fluxus movement. In the 1970s she became internationally known as a pioneering artist for her "video sculpture," which integrated video into three-dimensional structures. Her contribution to contemporary art, however, has yet to be adequately evaluated.

The Viva Video! exhibition provides a survey of Japanese American female artist Shigeko Kubota, with the latest research in context for international audiences. Shortly after the artist's passing in 2015, the Shigeko Kubota Video Art Foundation was established in New York at the bequest of the artist to preserve and further study of Kubota's life and legacy, in addition to advancing the field of video art. Drawing significantly from the collection of recently restored sculptures, drawings, photographs, and ephemera of the Shigeko Kubota Video Art Foundation, and complementing them with additional works from Japanese museums and archival materials from the artist's family, the exhibition will showcase a diverse array of materials for the first time.

What was Kubota thinking and seeking as a woman artist who was developing her art on the world stage in the dawn of media art? The exhibition will present multivalent views of Kubota's life and work, through drawings, photographs, archival documents, video, including her Duchampiana video sculpture series. The exhibition is scheduled to tour three museums across Japan, starting in Niigata, her hometown, in spring 2021, traveling to Osaka in summer, and ending in Tokyo in February 2022.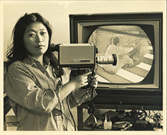 Shigeko Kubota Portrait © Tom Haar, 1972 Courtesy of Tom Haar and Shigeko Kubota Video Art Foundation
June 29-September 23, 2021
Takano Ryudai (b. 1963) received the Kimura Ihei Commemorative Award Exhibition for his photo book In My Room (2005), an attempt to visualize the ambiguities between binary opposites like man and woman, and homosexual and heterosexual. This exhibition, Takano's first retrospective, not includes photographs dealing with the theme of sexuality, but also a timeline of some 150 pictures taken since 2000 that were selected from the artist's entire body of work, including snapshots he makes on a daily basis, and the new series he began in the aftermath of the Great East Japan Earthquake. Together, these works will explore the essence of this photographer who consistently questions identity and conventional ways of looking at things.

October 12, 2021-January 16, 2022
This exhibition, focusing on the German artist Joseph Beuys (1921-1986) and his student Blinky Palermo (1943-1977), examines the creative principles underlying the artists' work.
February 8-May 22, 2022 (tentative)
Approaching the museum galleries as laboratories, the artists pursue experimental methods of expression in an attempt to convey unique messages and communicate with viewers. Artists include Hajime Imamura, Kodai Nakahara, Kohei Nawa, and others.