Collection 2 Postwar Sculpture: Focus on Materials
July 27 (Sat.)–October 20 (Sun.), 2013
In the 20th century, the concept of sculpture underwent a dramatic change in Europe and the U.S. First of all, sculpture was stripped of its long-standing function as a religious, commemorative, and ornamental expression. Secondly, in addition to the two main sculptural techniques of carving and modeling, artists began to incorporate everyday articles (objects). Moreover, their interests expanded into new fields; for example, wind or electric-powered movement. In addition, they began to display a heightened awareness to the environment around a work. Sculpture became something to structure a space and greater importance was attached to the display method. As a result of these fundamental changes, Western sculpture of the 20th century transcended the literal realm.
Japan was known for a unique tradition of three-dimensional expression that included Buddhist statuary, ornaments, and architectural decorations, but with the introduction of realistic, modern sculpture from the West in about 1900, Japanese artists were also inspired to make figurative work. In the 1910s and '20s, after Rodin's sculpture was first shown in Japan, it became popular to make work that accentuated vitality and the personality of the artist. Japanese sculpture from the first half of the century consistently displays a rivalry between craftsmanship that dated back to the Edo Period and a modern Western view of sculpture. At the same time, the influence of Western sculpture of the same era is only sporadically evident in works that made use of readymade objects or geometrical abstraction.
In Collection 2, we take a look back at postwar Japanese and Western sculpture, each of which had followed a different trajectory. Emerging from disparate historical contexts, sculpture from the two regions did not develop in the same manner. But with rapid advances in internationalization, both Japanese and Western artists gained access to new materials such as metal sheeting and aluminum, and sculpture in these two distant areas both expressed the spirit of the age while maintaining a distinct regional quality. In this exhibition, we focus on materials as one essential common element by presenting a selection of postwar sculptures from the museum collection that are divided into materials. In tandem with drawings and prints made by sculptors, the exhibition offers the viewer a special opportunity to identify the diverse perspectives of sculpture.
Organized by The National Museum of Art, Osaka
Sponsored by Daikin Foundation for Contemporary Arts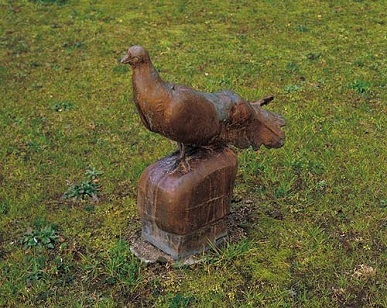 Opening Hours
10:00–17:00, Fridays until 19:00
Admission until 30 minutes before closing
Closed
Mondays and September 17, 24, October 15 except August 12 and national holidays, September 16, 23, October 14.
Admission Fee
Adults : 420 Yen (210 Yen)
University students : 130 Yen (70 Yen)
* Prices in parentheses indicate discount offered to groups of 20 or more
* Visitors under 18, over 65, and disabled people with one attendant will be admitted free (please present some form of identification at the door)