The 30th Anniversary:Collection of the National Museum of Art, Osaka
December 18(Tue.), 2007 - February 11(Mon., Holiday), 2008
The National Museum of Art, Osaka opened its door in 1977 as a national museum specialized in contemporary art after inheriting the Expo Museum of Fine Arts facility, which had been built for Expo '70, the world exposition that was held in Osaka in 1970.
Twenty-seven years later, due in part to the aging of the building and in an effort to provide a better environment for the appreciation of art, the museum relocated to a new site in Nakanoshima, in the heart of Osaka in November of 2004.
In the thirty years that have passed since the Expo '70 Park era, the National Museum of Art, Osaka has presented a wide variety of special exhibitions, but more than anything else, we have set out to build a full collection. Beginning with next to nothing, save a ceramic mural by Joan Miró, the museum has currently amassed a store of approximately 5,700 paintings, prints, sculptures, and photographs.
For this exhibition, we have chosen some 400 of these works, including both noted foreign artists of the 20th century such as Paul Cézanne, Pablo Picasso, Marcel Duchamp, Lucio Fontana, Andy Warhol, Sigmar Polke, Tony Cragg, and Kiki Smith, and artists who represent the trends and breadth of Japanese contemporary art, including Tsuguharu Foujita, Yuzo Saeki, Jiro Yoshihara, Yozo Hamaguchi, Yayoi Kusama, Jiro Takamatsu, Tadanori Yokoo, Yasumasa Morimura, Katsura Funakoshi, Takanobu Kobayashi, Miwa Yanagi, and Yoshihiro Suda. These works will be shown by making full use of the two expansive exhibition rooms and the surrounding open spaces in the underground museum.
This landmark exhibition marks the first time since the opening of the National Museum of Art, Osaka that the entire facility has been used to present the collection. But this has only become possible after thirty years of collecting, as the museum enters the prime of its life.
Finally, we would like to express our deepest gratitude to all of those who have donated works to the collection and to the numerous people who offered their support and cooperation to realize this exhibition.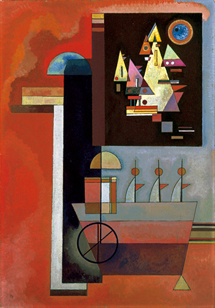 Opening Hours
10:00 - 17:00, Fridays until 19:00
Admission until 30 minutes before closing
Closed
Mondays and December 28, 2007 to January 4, 2008
(Except for December 24, January 14 and February 11,
closed on December 25 and January 15 instead)
Admission Fee
Adults : 1000 (800) Yen
University students : 500 (300) Yen
* ( ) Figures in parentheses indicate discount fees for groups of 20 or more
* High school students and under: Free
* Those with physical or mental disabilities and their attendants: Free