Sigmar Polke: Alice in Wonderland
April 18(Tue.) - June 11(Sun.), 2006
We are highly pleased to be able to present this exhibition of the art of Sigmar Polke. Polke is a major contemporary German artist and one of the most noted painters in the world.
Polke was born in Oels, Silesia, formerly an eastern part of German territory, in 1941. At age 12 he moved to West Germany. After studying at the Dusseldorf Art Academy, he began making paintings incorporating photographs and references to American pop art and he has continued to develop experimental methods. Paintings that show the raster dots used in printing became his trademark and he also produced paintings on printed fabric or transparent materials instead of canvas. With broad knowledge and penetrating observation, parody, irony, and a sense of humor, he has combined a wide variety of motifs from the everyday life of contemporary people, fairy tales, history, military events,myths, and alchemy. These groups of images arouse the imagination of viewers. They are bothfascinating and enigmatic. He received the Gold Lion Prize at the Venice Biennale in 1986 and the Praemium Imperiale in 2002.
This exhibition is composed mainly of works in the collection of the artist, so it might be described as an exhibition of "Polke by Polke." In it, we examine the artist's career through approximately 30 of his large-scale paintings, from his early masterworks Alice in Wonderland (1971), and representative pieces of the 1980s and 1990s to some of his most recent work.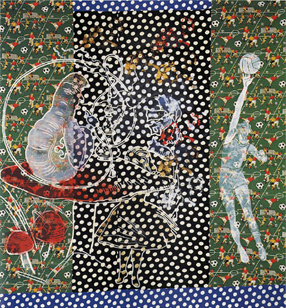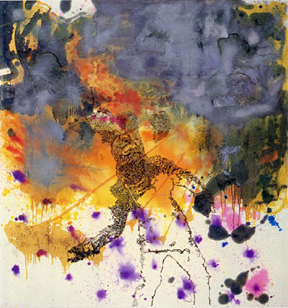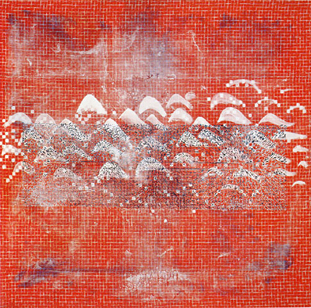 Opening Hours
10:00–17:00, Fridays until 19:00
Admission until 30 minutes before closing
Closed
Mondays (Except for Monday, May 1)
Admission Fee
[Day ticket]
Adults: 830 Yen / University students: 450 Yen / High school students: 250 Yen
[Advance ticket]
Adults: 700 Yen / University students: 350 Yen / High school students: 200 Yen
[Group ticket]
Adults: 560 Yen / University students: 250 Yen / High school students: 150 Yen
* Advance Tickets are sold at "Ticket PIA" (P-code 686-499) or "LAWSON TICKET" (L-code 56623).
* Fee for group tickets is applied for groups of 20 or more.
* Below junior high school student. Free
* Those with physical or mental disabilities and their attendant. Free
* Including Permanent Exhibition.